Carol Matheys Center for Children and Families Infant and Toddler Program offers a unique approach to care for children 6 weeks to 35 months. It contains a balance of structure and children's choice activities that are both teacher-directed and child-directed. The concepts of early brain stimulation and early attachment theory are cornerstones of our program. Activities are developmentally appropriate and are planned to encourage creativity and help each child develop intellectually, physically, socially and emotionally at their own pace.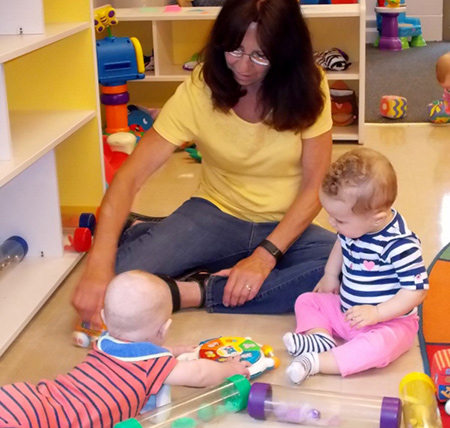 Babies ages 6 weeks to 16 months
A strong relationship is built between you, your infant and the caregivers
Each child is given a primary caretaker
Parents and caretakers can develop individual daily schedules
Bi-weekly themes involve even the youngest infants
Toddlers 16 to 35 months
Positive role modeling
Hands-on learning
Close relationships with parents
Small group and large group activities
Weekly theme-based curriculum
Your child's day will include a wide variety of experiences including art, music, language, dramatic play, sign language, math, reading, science, large and small muscle activities and lots of fun!
Treasured Tykes staff use BabyConnect to provide instant daily communication with parents.
Carol Matheys Center for Children and Families Infant and Toddler program is located at North Presbyterian Church in North St. Paul.